Gold Residences is a Residential property located in Gold City, a township community complete with commercial and offices that would complement a thriving economic hub. It is a master-planned property that is just right across from the International Airport of Metro Manila, It is 11.6 hectares in size that would house several mid-rise buildings. This is where Innovation, prestige, and dynamic living would be a daily occurrence.
Address: Paranaque - Sucat Rd, Parañaque, Metro Manila
Property Info:
Property Size : 115,054 sq.m.
Number Of Buildings: 16
Number Of Storeys: 11
Gold Residences Turnover:
Phase 1: September 30, 2024
Phase 2: July 31, 2026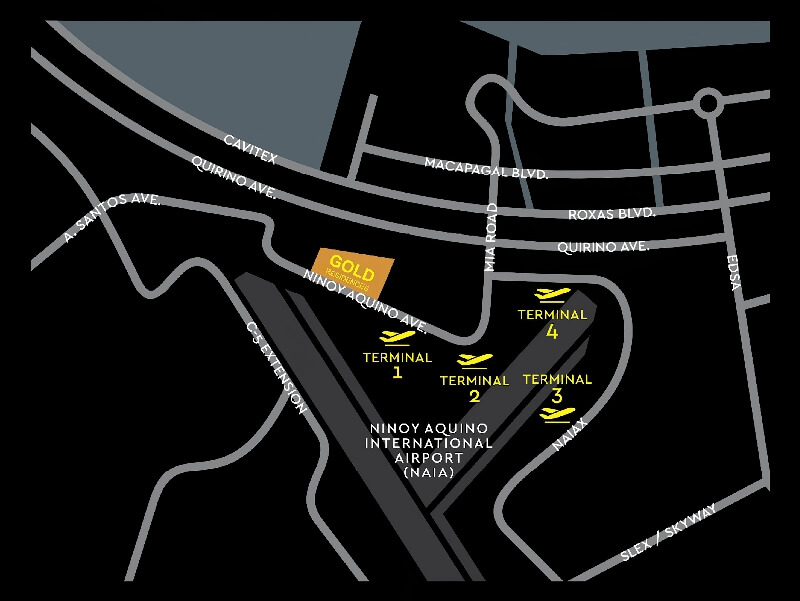 Gold residences is located right next to NAIA Terminal 1, your home placed right in the middle of the aerial transportation hub where the Philippines is connected to other countries, local and foreign tourist destinations, and financial hubs across the Globe. NAIA Terminal 3 will be accessible via NAIAX (NAIA Expressway) via car or via a proposed shuttle exclusive for Gold Residents.
The World at your Doorstep
With modern architecture and an appealingly luxurious golden look, not only your visitors would be impressed but also you would be fulfilled knowing that you live in a well-designed and well-landscaped community near the airport. With shops and commercial establishments nearby, convenience is unmatched, making this residence worth its weight in tons of gold.
Swimming Pool
Kid's Playground
Fitness Gym
Social Hall or Lounge
Parks
Enclave Gardens
High-end Grand Lobby
and more!